Choosing Materials for Online 3D Printing Services
There are lots of materials available for online 3D printing services and a couple for home 3D printing use. Find out what your options are and find the right 3D printing material for your design or product.

Whether you're printing jewelry, ornaments, home decor or parts for a project or home made gadget, you should be able to find a suitable material.

If you're considering starting a business selling 3D printed products then you'll want to understand the range of materials available, read more from here.

Or maybe you've just found out about 3D printing and you're wondering what it's possible to make. 3D printing is brilliant for making really special unique gifts or one off design pieces.

On this page we'll take a look at lots of the materials that are available for 3D printing and some items made with them.
Materials for Home 3D Printing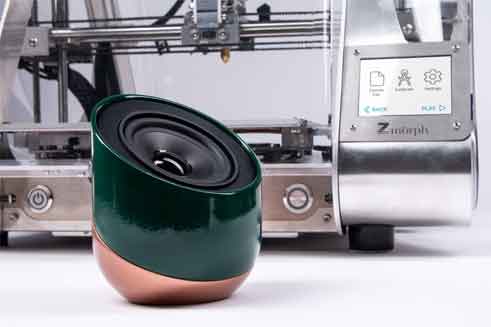 ABS Plastic
ABS Plastic is the plastic used to make LEGO and lots of other kids toys. It's strong and durable and usable by many popular home 3D printers. For home printing ABS comes in filament form in a reel for feeding into your 3D printer extruder.

See ABS Filament vs PLA Filament for a comparison of the two popular plastics for home 3D Printing.
PLA Plastic
PLA plastic filament is another popular plastic filament for home printing. It has similar qualities to ABS but some differences, one of them is that it smells nicer when it's printing. I can confirm that PLA is not at all unpleasant when printing and gives good results.

The pendant in the photo was printed at home using purple PLA filament.
Materials for Commercial 3D Printing
Available from online 3D printing services.
Materials at Popular 3D Printing Services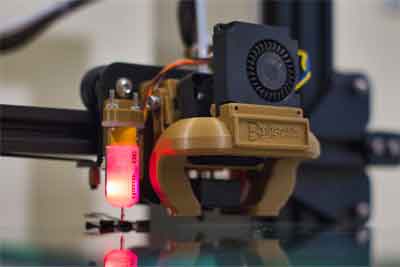 Shapeways, i.Materialise, Sculpteo, Ponoko
These quick links will take you to the list of materials pages for popular online 3D printing services Shapeways, i.Materialise, Sculpteo, Ponoko.

Some of these services offer a 3D materials sample pack or individual samples, this is a good way to get a hands on feel for the materials available. In some cases a voucher is included that allows some of the cost to be offset against a future purchase.
3D Printing Materials Overview
Below you'll see an overview of many of the 3D printing materials that are available. Many of these materials are provided by multiple 3D printing services, but the exact composition of the materials may vary so please check carefully. This information is just intended as a guide to the kinds of materials that can be used for 3D printing rather than as a technical specification or reference.

Online 3D printing is a new industry and the services are experimenting with new materials and compositions all the time so I'll keep an eye out for new materials and add to this page. If you think I've missed an important material you can leave a comment at the bottom of this page.