Because of their size and prominence in front of your home, it is important you make the correct selection when choosing your garage door. If you want one that complements your house and is suitable to your requirement, then check out these tips.
Style: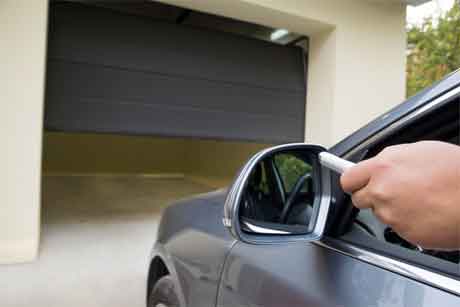 Currently the most popular choice in garage doors is the raised panel type. This may not make a fashion statement but is practical and convenient to use. Because of their popularity, raised panel doors come in a multitude of materials and finishes. It is important to consider the material and finish best suited to you keeping in mind the aesthetics of appearance. The present choice in raised panel doors is generally steel, wood and glass reinforced polyester.
However, if your home is period style, like a Tudor property for instance, then timber doors would be the preferred option. There is no limit to your imagination when considering traditional style doors with a period look. And these blend well with new constructions and older houses.
Light:
If your garage is used strictly to park your car, then you will no be visiting if for more than five minutes in the day and light will not be much of an issue. But if your garage doubles up as a workshop then obtaining as much natural light as possible will be desirable to permit you to work with the light off and door closed in cool weather.
Safety:
Expensive items such as tools, cars and bikes are housed in a garage so the safety of sound doors is important. Shoddily installed garage doors are an invitation to a break in. If the garage is attached to the house, this aspect is even more important as your garage doors should then be as safe as your front door and should be kept locked all the time.
Should you have children or pets at home then their safety and welfare is of paramount importance in choosing garage doors. Check out all the components and fitments that form part of the assembly such as pivot arms, springs and anti-drop mechanisms to ensure there is no danger of anyone getting injured in an accident.
Automatic Garage Doors:
An electric door to your garage which sails open at the touch of a remote might seem an extravagant expense. But considering the year-round rain in this country it makes sound common sense. Most types of garage door could be automated with a retro fit attachment, but your decision necessarily must be governed by budgetary considerations.
When you have considered the foregoing points and made your decision, make certain the job is entrusted to a professional company to install. Then you can rest peacefully secure in the knowledge that you've done your best for the safety and security of your home.