Do you need to know the time? How about today's day and date? If you just need a watch to cover the basics and do a little extra, you might find the Armitron All-Sport Digital Watch an excellent deal. It simply looks like a nice wristwatch. However, nice doesn't mean incapable. This nice $20 Armitron All-Sport Digital Watch can also do much more. This Armitron digital watch tells time, maintains a calendar, has a 24-hour alarm, an optional hourly chime, a chronograph, a countdown time, a second time zone, 12/24 military clock, and has a cool Instalite back light for nighttime use.
Of course, in the case of the Armitron All-Sport Digital Watch, nice also doesn't mean wimpy. This watch is shock-resistant and water resistant to 300 feet. This Armitron watch features rugged construction and Instalite Night Vision to illuminate the face as needed. When you see this Armitron All-Sport, your eye is drawn to the attractive stainless steel bezel marked with directional styling cues (N, E, S, and W) at the 12 o'clock, 3 o'clock, 6 o'clock, and 9 o'clock positions. The bezel rotates with a satisfying click, but has no function other than ruggedizing a digital watch. When you pick up this nice watch, you notice that the thick case has a stainless steel back and the black rubber watch band has plenty of length for substantial wrists. The only drawbacks to the rubber watch band are its stiffness and ability to trap perspiration. Otherwise, the color scheme is a subdued and tasteful combination of stainless steel, black, and low key green. This nice Armitron wristwatch is low key enough to function in any office or social setting. Stylistically, nothing on a nice watch is overdone.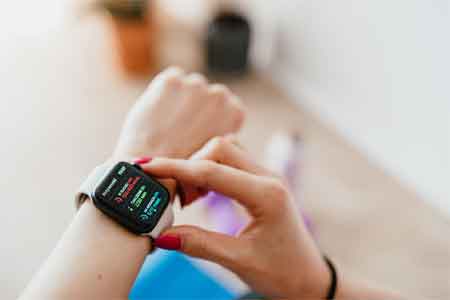 A closer examination of this nice Armitron watch reveals functional buttons at the 2 o'clock, 4 o'clock, 8 o'clock, and 10 o'clock positions. Each button is broad and textured with a single line of horizontal dots running parallel to the case. As an analog watch person, I found it difficult to remember how to get to and use all of the functions of this Armitron digital watch without having directions in my hand. However, compared to some digital watches that I've owned, working with this Armitron All-Sport watch was relatively easy. If you actually jog, race yachts, fly biplanes across the country, launch commando raids, or have other excuses to regularly use all the digital watch features, I'm sure that the available functions will eventually become second nature. I was able to use the stop watch, second time zone, calendar, and countdown timer without too much trouble. The are only two things this nice Armitron All-Sport Digital Watch won't do. The All-Sport won't let women know you are an Iron man tri-athlete and it won't show Donald Trump that you are a wealthy man of considerable substance. The Armitron All-Sport wristwatch is simply unpretentious.
Overall, I'd recommend the Armitron All-Sport Digital Watch to anyone needing an inexpensive, but attractive and functional, digital watch. I found it a little lighter than my Relic LCD Analog watches and definitely lighter than my Relic "Wet" Multi-Function Analog Watch, but a little more substantial than my Gametime Agent NCAA licensed sports team watch. The sleek modern styling of this Armitron is a definite contrast to eternally my eternally fascinating Invicta Skeleton watch. Best of all, for just $20, the Armitron All-Sport Digital Watch is a very nice deal.