The 2009 NASCAR Sprint Cup season was tough on Richard Childress Racing and Kevin Harvick. Harvick started off well, winning the Budweiser Shootout at the beginning of the season and then it went downhill from there.
Harvick has been winless last two seasons.
Towards the end of 2009, Harvick's frustration was coming to the surface, Harvick hadn't visited the winner's circle since 2007 and the winless streak was taking it's toll on his psyche. Harvick, talking to reporters at the October race in Fontana, hinted it may be time to part ways with Richard Childress Racing.
In a story posted on Harvick's website, he also discussed his desire for the 2010 NASCAR Sprint Cup Series to "be fun." "If it ends here, I want it to end peacefully," Harvick said. "That's my main goal. The bottom line is Richard Childress gave me a great opportunity to be a part of this sport. The last thing you want to do is throw mud in someone's face and be disrespectful." Read the entire story here.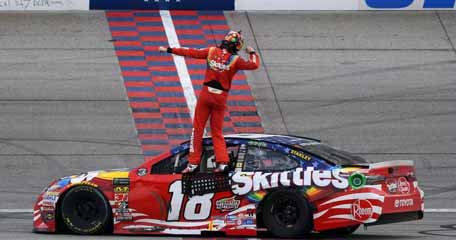 The 2009 season was Harvick's worst statistically, since he joined Richard Childress Racing after Dale Earnhardt's tragic death at Daytona in 2001. Harvick went winless for the second year in a row and only scored nine top tens, it was also the third year in a row that Harvick failed to capture a pole.
Rumors of Harvick as owner of NASCAR Sprint Cup team on the horizon.
With Kevin Harvick locked up for the 2010 NASCAR Sprint Cup series, the rumors of Harvick starting his own NASCAR Sprint Cup team will subside until midway through the 2010 season. Kevin Harvick Inc. won the NASCAR Camping World Truck Series Championship with a dominating performance by driver Ron Hornaday.
Kevin Harvick Inc. performed better in the NASCAR Nationwide series but is still a work in progress and it could be why the KHI team going to NASCAR Sprint Cup, may be one or two years away. Harvick's NASCAR Nationwide team has experienced wins and even a one-two finish at Daytona, courtesy of Tony Stewart and Burney Lamar. Harvick also finally won in his own #33 NASCAR Nationwide car, a feat he had been attempting to accomplish for four years as an owner/driver.
Harvick advanced to NASCAR Sprint Cup under tragic circumstances.
When Harvick came to what was then the NASCAR Busch Series, it didn't take him long to hit the ground running. Racing for Richard Childress, Harvick entered the series in 2000 and won three races in his rookie season. The following year Harvick entered the NASCAR Busch series as the favorite to win the championship.
What would happen next, no one could have imagined. In the 2001 Daytona 500 Richard Childress driver and NASCAR legend, Dale Earnhardt lost his life in a crash. Harvick, just getting his start with Childress was brought in to take Dale Earnhardt's spot on the NASCAR Cup team. Harvick repaid the favor by going out and winning the first race after the tragedy.
Harvick knows how to win races and championships.
Harvick, racing in the NASCAR Cup series, was still committed to race a full schedule in the NASCAR Busch Series. 2001 would be a busy season for Harvick and maybe that was the best thing for the young driver. Harvick went on to win the 2001 NASCAR Busch Series Championship and started a trend of drivers racing full time in both series.
Harvick returned to a full time NASCAR Busch schedule again in 2006 and once again won the championship for a second time. Harvick also won five NASCAR Cup races and nine NASCAR Busch races in that season. 2006 was Harvick's best season in his career to date.
Harvick is a long shot to win title according to Las Vegas.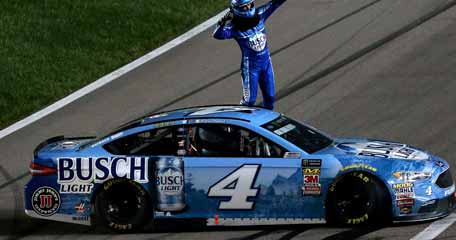 According to the Las Vegas Hilton Superbook, Kevin Harvick is a 30-1 long shot to win the 2010 NASCAR Sprint Cup Championship. Harvick may not be a realistic choice to win the title but he definitely has a chance to make the NASCAR Race to the Chase.